Tips To Understand If Your Motorcycle Needs Service
Like any other vehicle, your motorcycle also needs regular maintenance and servicing so that you get the best performance and safety on the roads. After proper servicing, you will love to ride your motorcycle even more. But have you ever thought, how to understand if your bike needs servicing? If your answer is "no," we will help you know about your machine. We will assist you in keeping your beauty live longer with a trouble-free life.
So, let's have a look at some of the inspection tips to comprehend if you need bike servicing.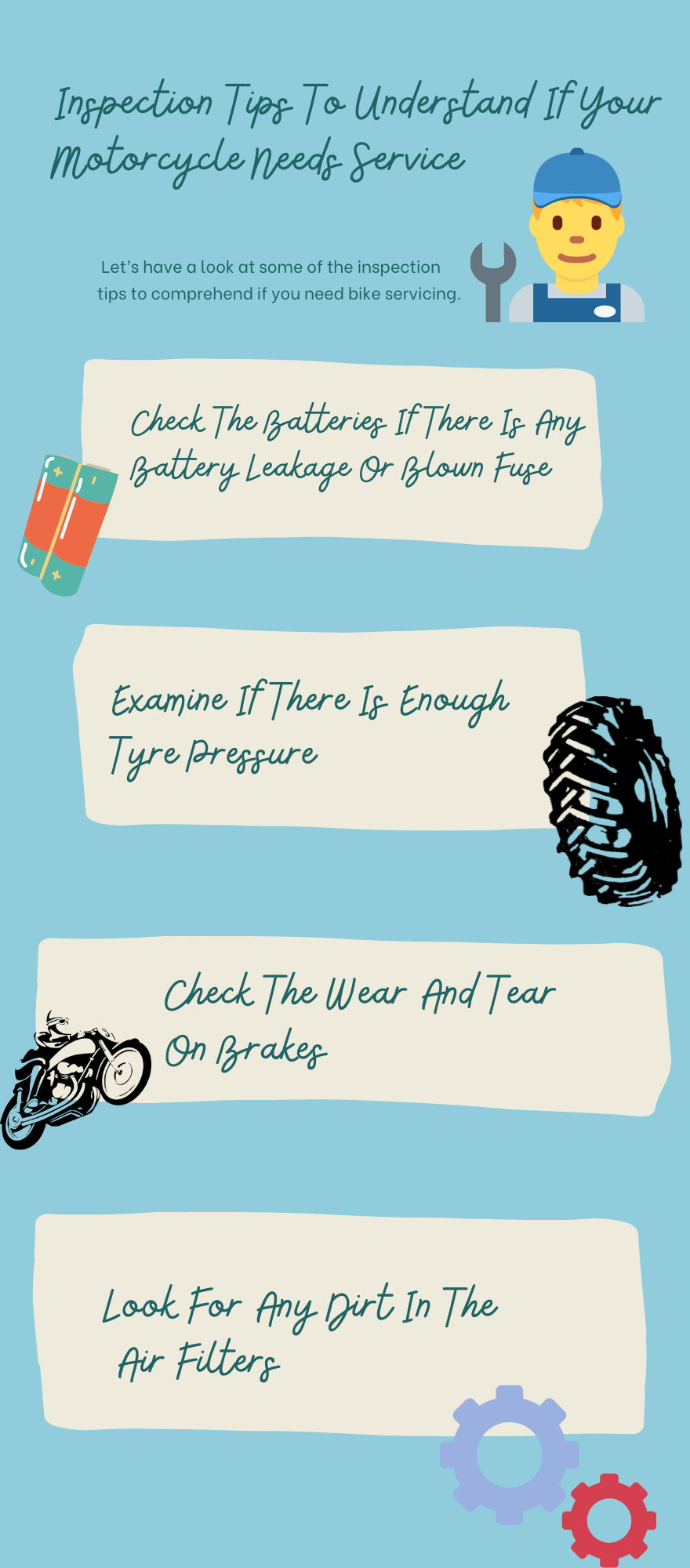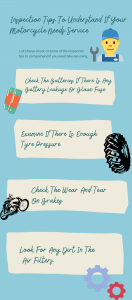 Check The Batteries If There Is Any Battery Leakage Or Blown Fuse
First and foremost, you need to check the batteries of your motorcycle regularly as they need utmost care and attention. If you fail to do so, you may have to spend a lot of money on its repairs. Moving further, look for any battery leakage or a blown fuse. If you find any such thing on the battery of your bike, you should take it to the two-wheeler service center immediately.
Examine If There Is Enough Tyre Pressure
The tires of the motorcycle are prone to lose pressure with time. Therefore, you need to inflate the tires at regular intervals. If you realize that the tires of your motorcycle are not well inflated, it's time to give your bike a check. The motorcycle also needs servicing if the tires lose pressure even after inflating. This reason is simply due to a puncture in any of the tires.
Check The Wear And Tear On Brakes
There is no second thought that getting it wrong with the brakes is a matter of life and death. To ensure safety, you should check the brake pads at regular intervals. Nowadays, brakes have discs on them, and they tend to wear off after extensive usage. When you notice the brake pads being worn off, you should immediately take your motorcycle to the service center and get it repaired.
Look For Any Dirt In The Air Filters
The air filters on the bike are made to protect the engine and enhance the performance of the vehicle. If you notice a significant decrease in the efficiency and increase the load on the engine, there is a possibility that the air filters are clogged. Hence, you should get the air filters cleaned every month through a bike repairing center. If your air filter is too clogged, you should get it replaced with a new one to ensure the smooth functioning of the machine.
Conclusion
By inspecting your bike regularly, you can keep your motorcycle running smoothly with maximum performance. We recommend you not to sit with the problems for too long for it may lead to more damages and costs. Ensure that you take your bike to a single mechanic. This way, you can determine the problem immediately. Therefore, it is always better to solve your problem at home than being helpless in the middle of the road.